Companionship is not always easy to find. The good news is that at Bunnies of Las Vegas, we're committed to helping people over the age of 18 to enjoy themselves in Sin City.
Dating is complicated. Many people visit Las Vegas alone for business or pleasure. During the time in the city, they want to go to a club or to a business dinner. However, they don't want to do it alone. Calling an escort is the simplest solution that is available. It's possible to spend time with a hot woman who can't wait to spend quality time with you.
We have been operating as a licensed business within the escort industry since 2009. Over the years, we have been able to work with the best talent in our business from all around the world. We only work with girls that love what the do, they love escorting, love to entertain and love to make our clients night memorable. All of the escort girls are open-minded, outgoing, and positively beautiful. At Bunnies, youll have no trouble finding escorts for men, women, and couples.
We have worked hard to offer affordable rates and a constant selection of hot, charming women. This has also led to a high rate of repeat clients. We listen to the needs of our clients to continually evolve.
The escort industry is alive and well in Las Vegas, Nevada. It is a highly-regulated industry. Businesses must adhere to Clark County, NV code of ordinances; specifically Chapter 6.140 - Outcall Promoters and Entertainers. An escort otherwise referred to as a call girl, is defined as a person who is available for hire. In exchange for monetary consideration, she will consort or accompany a client to public locations or within private quarters.
Who We Are
Bunnies of Las Vegas is a continually evolving agency that offers women for the companionship of all levels. Our clients book us when they want someone to spend time with. Clients can include men, women, and couples. We often provide adult entertainment for bachelor parties and other outcall entertainment events.
We provide a business model that involves acquiring Outcall Entertainment Referral Service licenses that allow us to provide nonsexual referrals to licensed escorts for a set fee. This protects all of our clients because the women will work within the parameters of the law.
Our fees are set by what the escort wants to charge for her time plus the referral fee that we charge.
We are not a marketing ploy. We do not use bait and switch techniques nor do we use cards and fliers on The Strip to promote our services. We do not up-charge when the escort arrives. Instead, we abide by all of the laws in the state by ensuring that there is a written contract between the client and the escort/agency before the escort arriving.
The women have been checked out and carry the necessary licenses. Further, the biographies provided are the real deal.
When you book with us, you can count on us providing the best possible experience for your companionship.
The Availability of Las Vegas Escorts
The availability of an escort is dependent on several factors. Licensed agencies will generally keep dozens of women on staff. These are women who have been carefully selected after placing ads. We list our full line up of Las Vegas Escorts here that you can view at your pleasure. All of the women are interviewed to ensure that they are flirtatious and sexy to offer a better overall experience.
A wide array of characteristics are available to ensure that the agency can cater to anyone and everyone's desires. This includes women who are Asian, Hispanic, and of European descent. Further, there are blonde, brunette, and redhead women. Some women are tall while others are petite. Some are busty while others are not. It allows clients to choose a woman of their dreams so that they can live out some of their fantasies.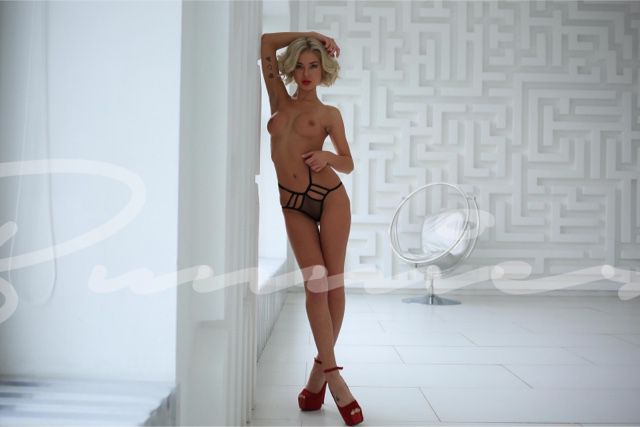 Availability will depend on the day and time, the number of women available, as well as any services that are desired. Some clients will request a woman who can dance, who can provide a massage or some other service. As such, it will be essential to identify the characteristics you want in a woman. We will then work to find you the outcall entertainment that you desire.
Our Licensing Requirements as an Escort Agency
As a licensed agency, Bunnies of Las Vegas adheres to all of the licensing requirements in Clark County, Nevada. We have a business license, and all of our employees have a Sheriff's Card, also known as a Work Card.
As an escort company, we also have a fixed business location and pay licensing fees on a regular basis. We also have a written contract in place with each of our clients that clearly state various details:
The services to be performed
The number of hours for services
The total amount of money that is to be paid
Special terms or conditions that relate to provided services
It is important to note that as a legal business, we provide companionship for our clients throughout Las Vegas. Hiring an escort in the city of Las Vegas is legal. Hiring an escort involves accompanying a man, woman, couple, or group to a business dinner, cocktail party, or other social function (or within private quarters). Hiring an escort does not, however, involve sexual relations. Using a service for an escort for sex is against the law.
Hiring an Escort vs. Prostitution
There is a big difference between hiring an escort versus prostitution. Unfortunately, the line gets sometimes blurred as a result of what people assume.
Hiring an escort is legal in the state of Nevada. Prostitution is legal in some counties in Nevada. However, prostitution is not legal in Clark County, which includes Las Vegas.
Hiring an escort is the act of requesting companionship from a person in exchange for money. Prostitution is where money is exchanged for sex.
Understanding the various legal aspects of contacting an escort and agency will make it easier for you to follow the law. Texting an Escort
Texting an escort is not a crime. In fact, many agencies will provide you with a number for you to text an escort so that you can get comfortable with her before meeting her. Additionally, you can make some requests of her, such as what she is going to wear.
If you text her requesting a time to meet, she will identify the rates that are charged. The request itself will then be funneled through the agency.
If you text an escort to solicit sex, it is illegal. The language used and the context of the conversation is what makes it legal versus illegal. You need to understand that any texts or SMS messages can be admissible in a court as evidence.
Having Sex with an Escort
Paying for sex or sexual relations is against the law in Clark County. This means that you can hire an escort to accompany you to an event or invite her into your personal quarters, such as a hotel room. However, if you have sex with her while paying her as an escort, it is identified as prostitution.
Solicitation (requesting sexual favors) is illegal, just as prostitution is. This means that although you may be in the company of a beautiful woman, you cannot ask her for any sexual favors while you are with her. This is when the written contract comes into place. It identifies the hours you are with an escort. If sex occurs during those times with the escort, it is viewed as having sex with her in exchange for money, which is illegal.
If any activities of a sexual nature transpire outside of the time that an escort is booked without money being exchanged, it is then identified as a non-paid encounter that takes place between two consenting adults.
Penalties for Prostitution
There are penalties for solicitation and prostitution in Nevada. This is all covered in NRS 201.320, which is within Chapter 201, the Crimes Against Public Decency and Good Morals.
A prostitution charge is typically a misdemeanor, which is publishable with a fine of up to $1,000 and jail time of up to six months. If there is a minor involved, it then becomes a felony, which can result in years in prison. This is also why agencies will only provide an escort to someone who is at least 18 years of age and why all women are at least 18 years of age.
What to Expect When Calling Us
There is no fee for inquiring about an escort. The fees are for outcall services of a non-sexual nature. The rates are generally charged by the hour, with one hour being the minimum.
The hourly rate will vary based on each escorts fee independent from one another as well as any additional services that might be offered. A fee is paid to the escort service typically in the range of $250 for referring the call to one or more of the escorts.
The rates are often reduced when multiple hours are booked.
Determining the reputation of an agency is critical. At Bunnies of Las Vegas, we strive to offer the best possible experience. It's why our clients continue to rely on us for companionship. We also ensure all of the legalities are taken into consideration so that it provides peace of mind.
Illegal aliens will often pass cards on the strip. These are known as "card slappers" or "handbillers." Most of these individuals break a number of clients and place clients at a significant amount of risk. We understand these risks, which is why we make sure never to utilize such services. All of the women we use within our agency have been pre-screened and are licensed with the state of Nevada.
Our top-notch service is why our clients book with us again and again.
The women that we feature may be featured on other sites, too. Why? The average escort is an independent and chooses to work with several agencies to increase their bookings. Independents are afforded privacy to ensure that their real lives are kept out of the public eye. Additionally, many of the photos are models that closely resemble the girl who will arrive at your place. However, you can result assure that she will be absolutely beautiful.
Additionally, when you call us, you can count on the highest level of discretion and professionalism. We do not share the name of our clients with anyone unless it becomes a legal matter and law enforcement officers request the information. This allows you to book with comfort knowing that no one will find out that you have asked for companionship in the form of an escort.
Booking Our Escort Service
Booking our escort agency is easier than you might think. When you call, we will work with you to find the girl of your dreams. More importantly, we ensure that you know what to expect. If you have questions, we encourage you to ask them while going through the booking process.
We will ask for several pieces of information: The name on your driver's license or hotel reservation A direct phone number (preferably cell phone) The escort you wish to meet The number of hours you wish to book companionship
Once we have all of your personal information, it will allow us to complete the booking process. By going through an agency, you confirm that everything is legal. Further, it ensures that you will have companionship at the time that has been agreed upon. If for any reason an escort does not show up or does not meet your standards, we will be happy to send another one out to you at no additional cost.
We will only refer an independent escort out to those individuals who are at least 18 years of age.
An escort is available for your companionship 24 hours a day. You can call at any time that is convenient for you to complete the booking process.
Call us now to learn more about Bunnies of Las Vegas and to book time with a beautiful escort who will accompany you to any social event or provide you with companionship in the comfort of your hotel room.